Please note: all Rights Copyright © reserved by the Artist and owner of this site - Lorraine Whillans 2012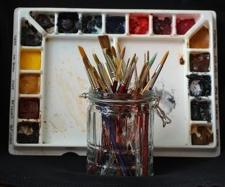 Occassionally I have completed original watercolour paintings available for sale. These are not commissions but dogs that I want to paint for a series I am working on. These paintings will be added to the Paintings For Sale section.
Commissions:
Interested in commissioning a Portrait of your dog?
I can work from a photo or a digital image.
My current paintings are 11" x 14". They are done on high quality-acid free watercolour paper.
Price $250.00 - $350.00 (subject to change)
Prices are for a single head study with no background. For a second head study in the same portrait, add another $150.00.
Paintings:
Sizes and Prices
11" x 14" - $250.00 - $350.00
12" x 16" - $300.00 - $400.00
14" x 18" - $400.00 - $500.00
16" x 20" - $500.00 - $600.00
Note Cards:
Note Cards are available of all the paintings on this website or have your original paintings made into your own note cards.
Cards are 5"x7" - envelope included.
Prices as follow:
10 cards - $35.00
25 cards - $81.00
50 cards $150.00
75 cards $206.00
100 cards $250.00
Other quantities available upon request.
Business Cards available - price upon request.
*Taxes not included
Shipping is not included in the above prices. Quotes available for shipping.
Payment:
Pay pal is the preferred method of payment for all non-local commissions [national or international]. For local commissions, I will accept cash or cheque. Cheques are to be made out to Lorraine Whillans.

Copyright:
As the artist I retain the full rights to all of my artwork, including reproduction copyright.
Commissioned artwork may not be reproduced or used for financial gain without my written permission.
I reserve the right to use my artwork for promotional purposes.
For any reason, the client decides not to purchase the finished commissioned piece, I reserve the right to reproduce and sell the orignal artwork.